HNULUPTU: Vega Essentials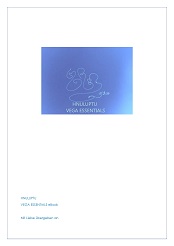 With "Vega Essentials" the star system Vega, under the patronage of Hnuluptu and his team, 116 healing mantras, their essence and 7 holy sound sequences provided to you. Their application serves the healing and the transformation at many levels. Vega - energy on the earth contains the ideal vibration medicine for self - healing, for global group healing and to the manifestation this Vega – energies on the earth.
Hnuluptu of Vega system:
"I am Hnuluptu. I come from Vega. I am there a speaker and co-ordinator for everything what is connected beyond our system with us. We have aims, orders and far-reaching connections. Everything works hand in hand. My order is to lead the earth region again in her beauty and unity. I accompany the extraordinary measures which take place in the earth's surface, as well as in the interior of the earth. Who expects a big hierarchy now with us, is disappointed because we stand everybody on the step of the unity, one – being. Each of us has his order, linked with duties which lead in the whole universe to adjustments. Thus I am that what one calls a co-ordinator. I am a driver, distribute duties and combine with those which work on the high sighting of the community. My job is to provide our assistance, for help and healing to the population of the earth about the medium. More and more is given the person what is so important for the healing and evolution. Thus we fulfil as a star community our contribution. Vega is uncompromising who gets involved in this energy, is helped to pull, transformed and cured. Vega – system is unique in his beauty, and we are anxious of it, this beauty, and everything is connected what to transmit to you. In addition belong "Vega Essentials". They are healing mantras, highly energetically and in her expression multi-layered. We, whom we maintain the telepathy, would like to transmit on account of the change on the earth this method, because it is exceptionally important to express tones and remedial sounds. These change vibrations. Everybody who would like to change the earth is welcome to use our vibrational medicine and to lend her expression. The medicine is so important, therefore because a lot of aid of the old generation has retired and has become ineffective. Everything will be adapted to the new oscillation levels. New adjustments originate which change the energy, and thus relief originates, also at the cell level. My name Hnuluptu comes from a long generation of high healers. And I am very proud to be allowed to carry him. The more you everybody in contact come with us extra-terrestrial, you will find out that there are some wondrous, to you foreign names. This is an expression of God. Everything is a vibration, thus also the names. I am glad to be allowed to serve you. Related with the best regards, yours, Hnuluptu of Vega."
Page Content:

Preface

Instruction

Basics

Healing the self

Healing of the soul

Global healing

God within me

Complating the light

Manifesting Vega

Sun and moon

Dissolve

Promote

Final sound: Holy tones
131A eBOOK HNULUPTU: VEGA ESSENTIALS

eBook in the PDF - format, 22 pages
Price: 23, Euro